The Resort
Galaxy Beach Resort
As soon as you enter Galaxy Beach Resort, a beautiful adventure begins for you, since our hotel offers a complete package of services that are sure to impress you, being a member of the renowned Best Western chain.
Galaxy Beach Resort is located in Laganas, one of the most beautiful spots of the Ionian Sea and will give you the opportunity to experience all aspects of Zakynthian hospitality within a frame of relaxation, euphoria and gastronomic enjoyment. We have more than 40 years of experience and certainly know all the details of how to achieve the perfect stay, which we ensure are offered generously to our guests. Whether you are visiting Zakynthos for work or for leisure, our hotel will welcome you warmly and satisfy your every need, wholeheartedly.
Our 120 rooms and our renewed facilities are designed to offer high standards of hospitality, so that the visitor can fully enjoy the best features of the island without worrying about absolutely anything. Galaxy Beach Resort is an ideal choice for spending family holidays, but also for anyone who wants to combine the coveted sense of relaxation with the 5-star service.
Indulge in the approachable luxury of our hotel and get ready for a comfortable, warm and magical memory trip.
Corporate responsibility
The active contribution in protecting our environment for a better planet is our duty and a matter of social responsibility. The Best Western Galaxy Beach Resort, values environmental sustainability and is committed to implementing simple practices which aim at minimizing the impact of our activities and improving the hotels environmental performance by reducing energy losses and waste, as well as saving water resources and preserving the region's natural habitat.
Our efforts aim at promoting activities which combine quality of service and customer satisfaction with environmental protection and awareness. All policies and procedures are implemented and reviewed regularly, in order to create an eco friendly environment.
Facilities & Services
Galaxy Beach Resort sets very high standards, since our priority is to please our guests up to the very last minute of their stay.
Our luxurious amenities, the variety of services and facilities we offer, and especially our love for hospitality, are the key elements that create the wonderful mosaic that comprises a complete stay experience.
Here you will savour many culinary delights, relax with a drink under the light of the stars, indulge in the coolness of diving in the pool and by various creative activities, while your children will discover a wonderful world of play and fun. To experience all of this to the fullest, you may enjoy the privileges of an all-inclusive hospitality package.
Whatever the purpose of your trip to Zakynthos, you can be sure to take advantage of the full service and benefits at Galaxy Beach Resort, so as to live an unprecedented stay experience.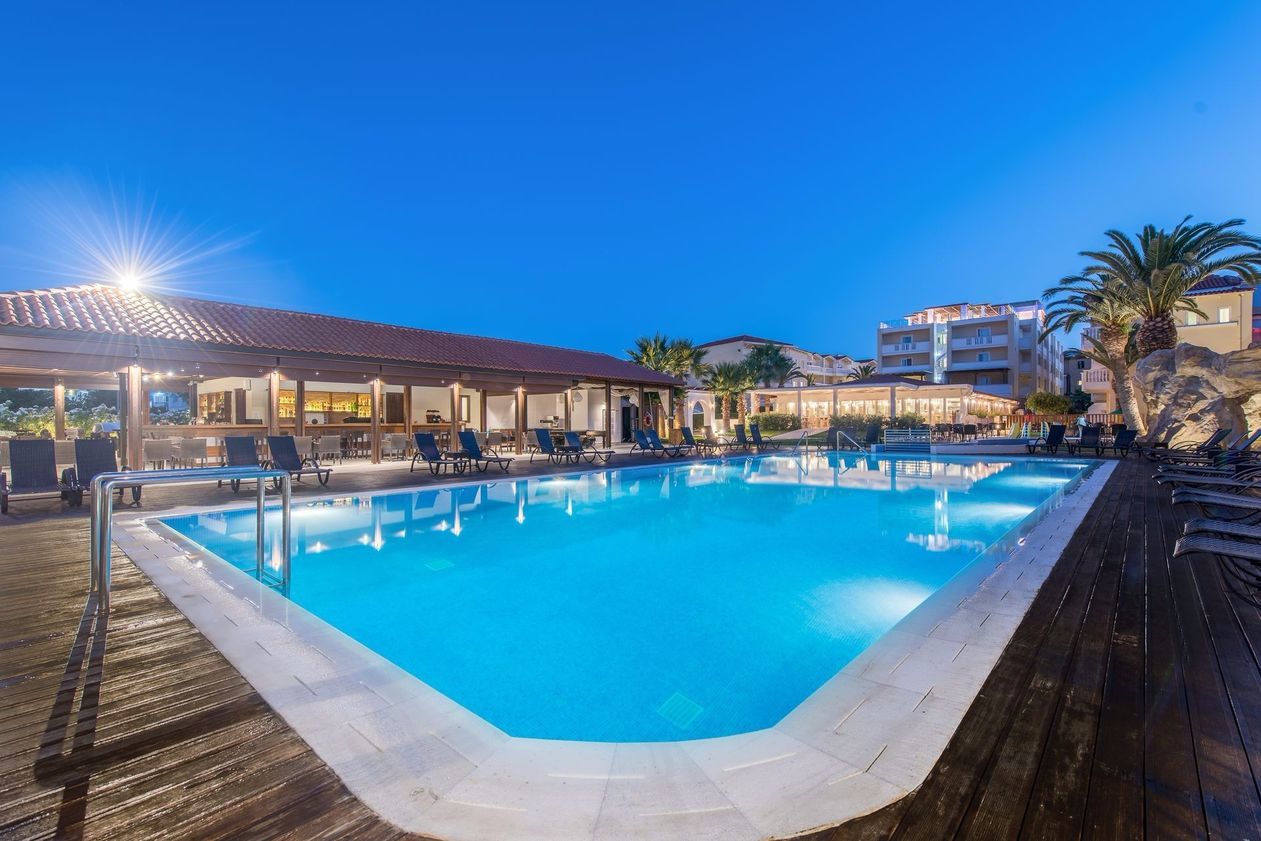 All-inclusive program
If you wish to spend your vacation as the most relaxing experience there is, with no worries to burden you, one of our All-inclusive packages is precisely what you need!
The 4 preferential all inclusive programs of Galaxy Beach Resort will give you the opportunity to enjoy every moment of your vacation, free from the stress of extra charges, since their complete list of benefits will fully satisfy you, while it is the ideal choice if you are on family vacation when needs are often multiplied.